Additive-Free Anti-Static film: STAT-3S
Anti-Static Polyethylene film (Slip-type & Non-slip-type)
<Features>
STAT-3S polymer itself satisfied with an anti-static "Safety", "Stability" and "Satisfactory" for non-charging with electricity characteristics.
STAT-3S does not change in quality by a switchover any of additive material to your product in this bag.
There is not humidity dependence, and Static Decay time is extremely short.
There is an effect in stable resistance value semipermanently less than 1010 internal Ω and less than 1011 surface resistance value outside Ω.
Processing: gusset bag, square bottom bags, zipper bags, and other special processing.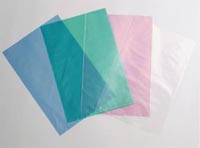 Color:Blue,Green,Pink,Natural(Available for special orders)
STAT-3S "Blue"(Standard bag)
No.
Size(mm)
Qnty/1case
Weight/1case
(about)
Thickness
Width
Length
3S-0715
0.05
70
150
2,000
3kg
3S-1015
0.05
100
150
2,000
4kg
3S-1020
0.05
100
200
2,000
5kg
3S-1525
0.05
150
250
2,000
8kg
3S-2030
0.05
200
300
1,000
7kg
3S-2535
0.05
250
350
1,000
9kg
3S-3040
0.05
300
400
500
7kg
3S-3545
0.05
350
450
500
9kg
3S-4050
0.05
400
500
500
11kg